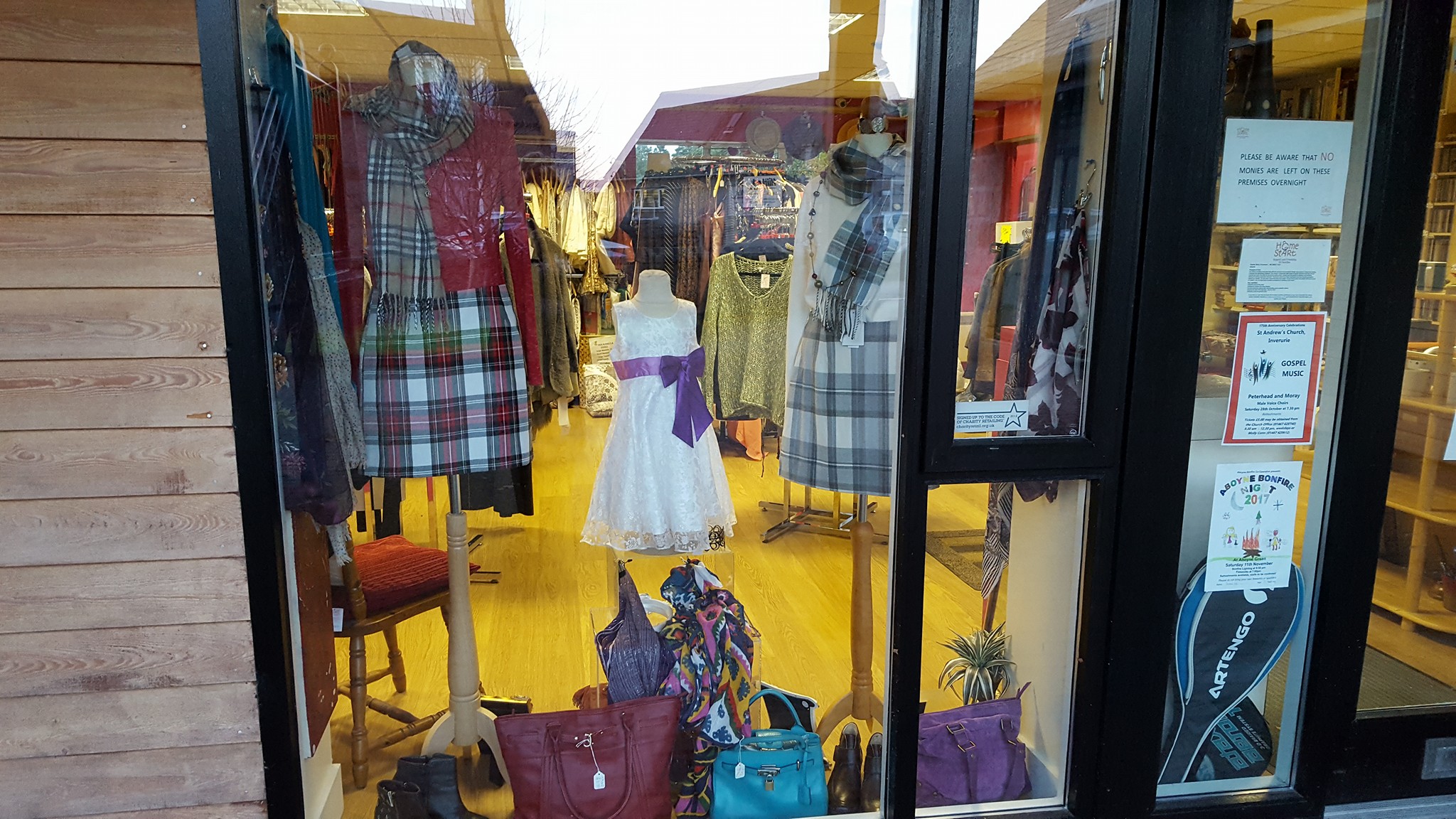 About our Shop
Our shop is in the heart of Aboyne at Unit 2, Charleston Gardens Charleston Road, Aboyne AB34 5HN.
We have a friendly volunteer team who run the shop between Monday and Saturday 10am until 4pm.
All the money raised at the shop goes towards helping families within the local area.
Free on-street parking is available at the front of the shop and for free in the local village car park.
We are able to accept cash and debit card payments within our shop.
And we will refund any items within 14 days of purchase as long as a valid receipt is provided.
We will hold items for customers for a maximum of 24 hours.
How can I donate to the charity shop?
Bring your items to the shop during opening hours. One of our helpful volunteers will take your items into our store room for sorting.  We ask that you don't leave any donation items unattended at our shop or office front door.
If you are a UK taxpayer, you may be asked if you want to Gift Aid your donation: this means that the charity can receive an extra 25p from the Government, for every £1 they raise from selling your goods.
Our volunteers simply take a few details from yourself and then issue you with a handy little card that you can place into your purse/wallet for future use.
Even items of clothing or materials that are past their best can be taken to the shop.  Just mark them as 'rag' and we can send them away to be recycled raising more money for us.
Here are a few things to think about when donating items to the shop
Charity shops work because they can sell items with a second life. Please check your donations are both clean and functional e.g. tears or broken zips on clothes – missing chapters in books!
You are helping a good cause AND the environment – re-use is even better than recycling.
The best way to donate is to take items directly to your local charity shop.
If you have more specialist items, for example, electrical goods or furniture, it is best to check that the charity shop can accept these items for re-sale before donating.
If you are not sure whether your clothes can be re-sold – donate them anyway – whatever clothes a charity shop can't sell they can send off for further re-use or recycling!
What items will the shop accept?
We sell a wide range of goods, including accessories, bags, books, clothing, crockery, games, films, jewellery, music, ornaments, paintings, shoes, toys and small electrical items like lamps, hairdryers etc. More unusual items such as sports equipment, musical instruments and home furnishings, will also be welcomed.  We are not able to take large items of furniture, or large electrical goods.
When taking items to the shop please consider "would someone else want this?". If items are broken or those missing parts we will not be able to resell them. However, all clothing – even if it's not in fashion or has a tear or hole – can be used to raise vital funds for our charity.   Any items of clothing/material that we are unable to resell is then sold on to be recycled raising more funds for us.
If you are in doubt please just give us a call on 013398 87290