**SHOPS & OFFICE CURRENTLY CLOSED**



Unfortunately due to current Covid restrictions both our shops in Aboyne and Alford will remain closed until further notice.
Our Team will be working remotely from home until further notice.  You will still be able to leave a message on the phone at the office which will be monitored.  However, the quickest and easiest way to reach us will be by email to info@homestartdeeside.org.
13th January 2021
**THANK YOU **



We were delighted to receive some funding from our local Scot Mid which went towards extra PPE for our volunteers who help in our 2 charity shops as well as printing costs and refreshments for our latest volunteer training course. Our thanks go to all at Scot Mid for their support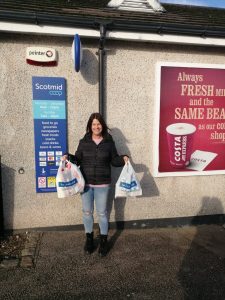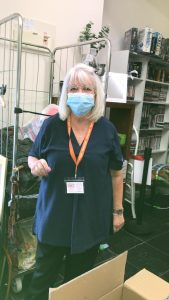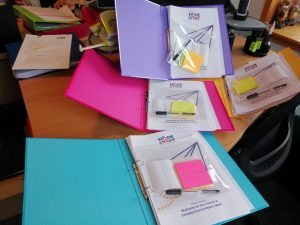 9th November 2020
**CHANGES WITH DONATIONS**



From Monday 31st August until the following Tuesday (8th  September), both our Aboyne and Alford charity shops are UNABLE to accept any donations due to being at full capacity.
We appreciate this will be frustrating, however we simply do not have the space at present to safely store items.
We would also request that anyone looking to drop off donations going forward please call the shops prior to doing so.
Our Aboyne shop number is 01339887290 and our Alford shop number is 01975562398.
We thank you for your continued patience and understanding."

27th August 2020
**WE ARE OPEN**



We will be re-opening both our Aboyne and Alford charity shops on Tuesday 4th August at 10am.
However, there will some changes we need to make our customers aware of: Both shops will only be open from Tuesday through to Saturday, 10am until 3pm.
We can only accept donations on a Tuesday and a Thurs
day between 10am and 2pm. We will have a doorbell at the entrance to the shops that customers can ring when dropping off donations, a member of staff will then meet you at the front door and take your items from you.
For the time being, we can only allow four customers in the shops at any one time, we will continue to monitor this in line with government guidance. We will also have hand sanitising stations in each shop.
We are very excited to be back and look forward to welcoming our customers. Any queries please call our main office on 01330 824443.

4th August 2020
**THANK YOU **



We are delighted to share that we have been awarded the fantastic amount of £8,006.00 from the Bank of Scotland foundation.
This money will go directly towards the running of our four family support groups within Deeside and Alford thus empowering us to sustain our valuable group work within the community.
We would again like to extend our gratitude and thanks to all  @bankofscotlandfoundation
26th May 2020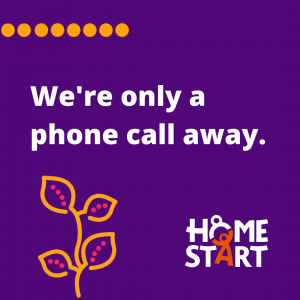 ---
Here for You



We are seeing now more than ever the importance of resilient, connected communities that can absorb adversity and protect each other.
The Government must invest in early intervention, local services that support families and the wider community through times of crisis. Read our call to the government here: https://www.home-start.org.uk/blog/home-start-and-the-carereview
We want to keep families and our volunteers safe. That's why we are currently supporting families remotely through phone, Skype, messages and texts. Call our team today for advice and support on 01330 824443 or email info@homestartdeeside.org
Bits n Bobs
Hill of Banchory Family centre,
Thursday mornings
9-11am
*CURRENTLY NOT RUNNING*
Bits n Bobs
Aboyne Bits n Bobs,
Victory Hall,
Aboyne, Thursday afternoon from 1-3pm
*CURRENTLY NOT RUNNING*
---
Our New Alford Shop



We are excited to announce that our Alford Shop is due to open on Friday 14th February.  From 11am until 3pm.  We will have cake and refreshments available.
Please note that our Aboyne Shop will be closed on this day to allow our Volunteers to come over and support the opening.
The Alford shops opening hours will be Tuesday to Saturday from 10am until 3pm
You will find the new Home-Start Deeside, Alford & Strathdon Charity Shop at 59 Main Street, Alford, AB33 8PX, 01975 562398, email: shop@homestartdeeside.org
We look forward to welcoming you in to have a look around.
---
Thank you to Baldarroch Chapel and Crematorium



We were delighted to receive a cheque from Baldarroch Chapel and Crematorium yesterday for the amount of £1654.25. We would like to extend our sincerest thanks to Angela Smith and Moira Garden from Baldarroch,  for coming along to find out more about what we do and to present us with the cheque. We were also very interested to hear about how these monies came about which you can read about below. Pictured from left to right are, Irene Malone and Leah Bruce (Home-Start Deeside, Alford & Strathdon) and Moira Garden with Angela Smith (Baldarroch Chapel and Crematorium)
In accordance with the Federation of Burial and Cremation Authorities (FBCA) policy, any metal (ie. Orthopaedic implants, jewellery, nails and pins used in the construction of the coffin) that is left after cremation is removed and is sent for recycling. In the case of Baldarroch Chapel and Crematorium, they use a company called OrthoMetals who are based in the Netherlands. OrthoMetals re-coup the current market value of each type of metal and keep 20% to cover the cost of transportation, sorting and smelting costs etc. The remaining 80% is returned to Baldarroch where they donate the money to charity.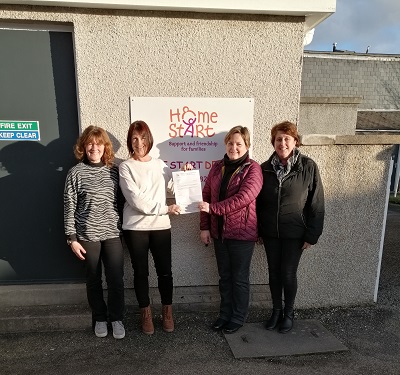 28.01.2020
---
Thank you to Morrisons, Banchory

This is one of our board members receiving donated items from Morrisons comprising of tea, coffee, biscuits, toiletries, etc for us to use at our groups and give to families.
Pictured is Julie Williams, Home-Start trustee and Joanne Burt, Community champion for Morrisons Banchory.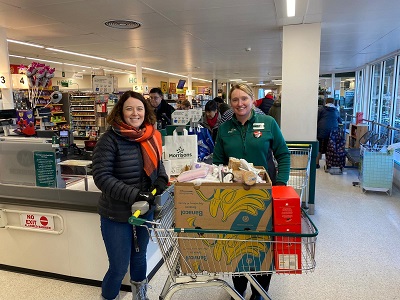 14.01.2020
---
Thank you to  Stella's Voice, Peterhead

We would like to send a massive thank you to Andy and the volunteers at Stella's Voice, Peterhead for their very generous donation of furniture to kit out our new Alford shop, all your help and kindness was very much appreciated.
13.01.2020
---
Thank you to Duncans of Banchory
We would like to extend our thanks and gratitude to Graham Duncan, Duncans of Banchory, for donating a shop counter and several other items for use in our new charity shop opening soon in Alford.
Pictured is Julie Cooper, Business admin and Graham Duncan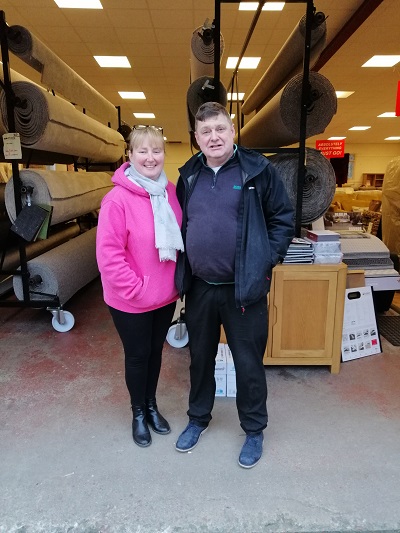 13.01.2020
---
New Shop in Alford
We are so excited to announce that we will be opening a new charity shop in Alford.
We received the keys this week and from left, to right it is Iain Mackenzie, Home-Start Deeside Chair, Julie, Leah, Alex Anderson, Home-Start Deeside Trustee, Donna Keen, Shop manager, and Alan Grant.
We are now recruiting for shop volunteers.
We are looking to open the shop early February and anyone interested in becoming a volunteer should contact the office via phone 01330 824 443 or email info@homestartdeeside.org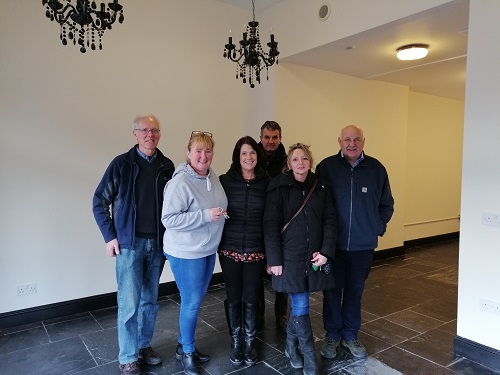 08.01.2020
---
Thank you
We received this cheque from the Humpty Dumpty committee this morning. We were completely overwhelmed as you can imagine and it will go a long way towards helping local families.
16.12.19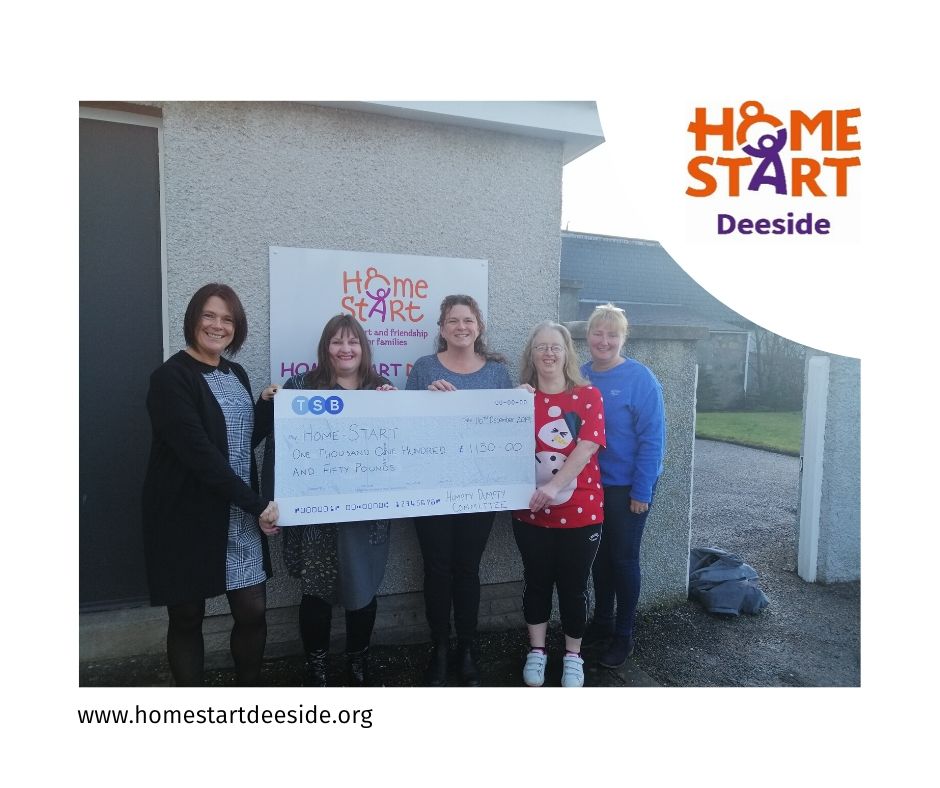 ---
You are welcome to join us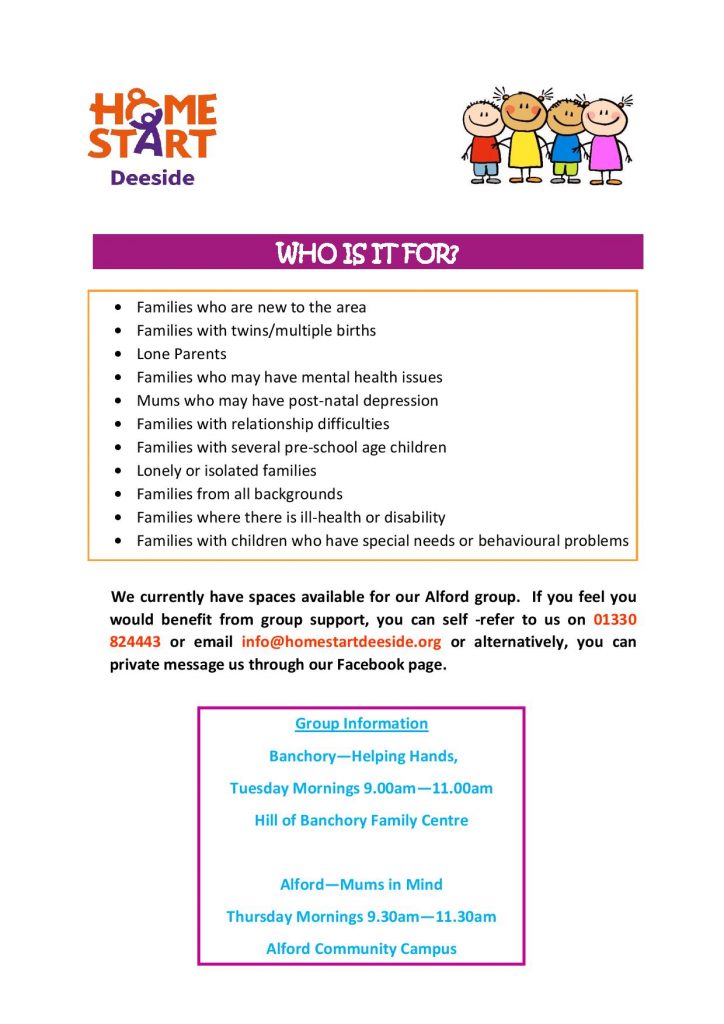 Funday 7th July 2019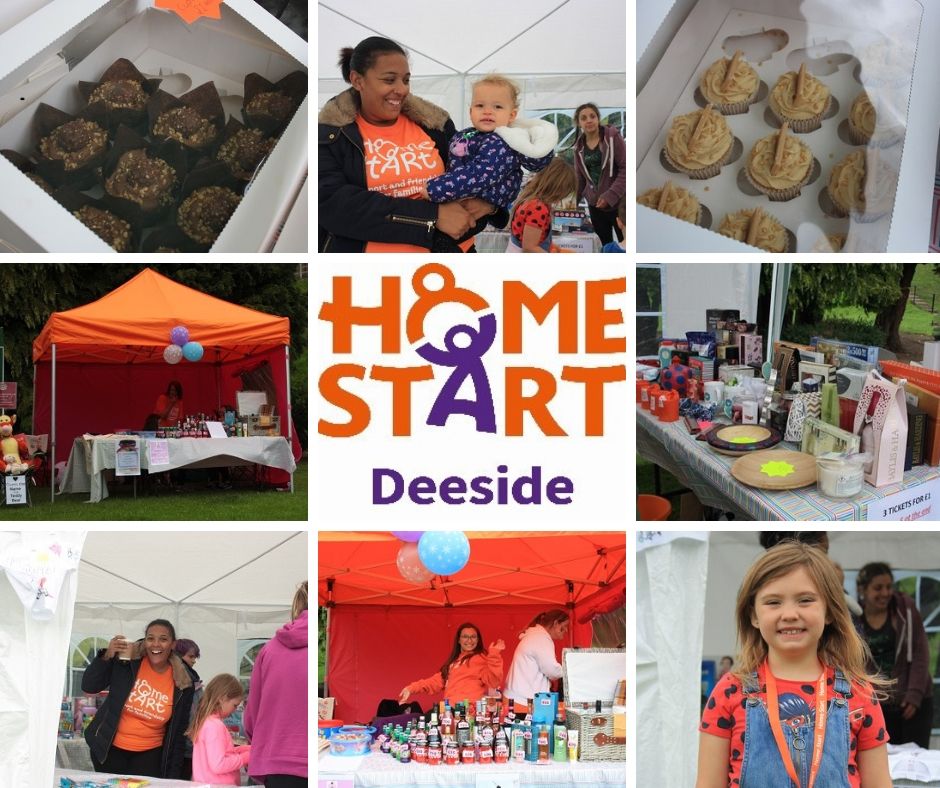 We would like to thank those who helped make our Family Funday on Sunday the 7th July a success.
We would like to say a special thanks to Deesidedly Tasty for who provided the tasty BBQ service. Deeside Inflatables who provided us with a magical bouncy castle.  And Morag McBeath, Secretary for the Aboyne Highland Games for loaning us some of their tressel tables.
And of course to all the families who came along to spend the time with us.
Without your support, we would be unable to hold events like this and raise awareness and funds for our Charity which provides support to families within the local area.
Thank You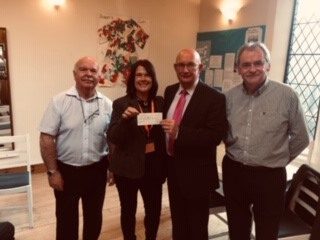 Here is Leah from the office accepting a very generous donation of £3000 from the John Watson Guild.
The gentlemen from left to right are John Aitken, Rod Dallas, and Reg Christie.
All the money from this donation will go directly towards supporting local families within the area.
Thank you again.
Our Shops 10th Birthday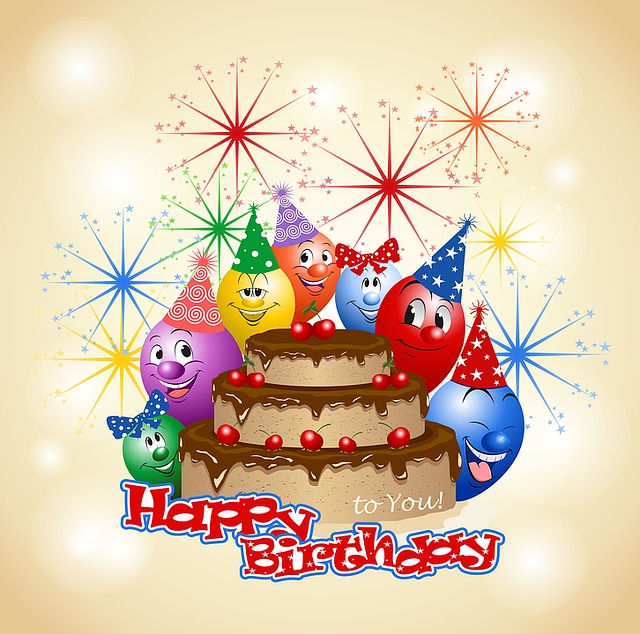 We would like to thank all of those who purchased raffle tickets to celebrate our shops 10th birthday, on the 14th February 2019.
We managed to raise £500 altogether.  Which will go back into our work helping local families within the area.
You can still help us by either donating items to our shop or coming in and purchasing some of the generous items that people have passed to us to sell. 
Our shop in Aboyne is open Monday – Saturday, 10h00 until 16h00 every week.
Thank you for your continued support.